---
Five Poems
---
by
Deborah Wyrick
North Carolina State University, Raleigh NC
---
Copyright © 2001 by Deborah Wyrick, all rights reserved. This text may be used and shared in accordance with the fair-use provisions of U.S. Copyright law, and it may be archived and redistributed in electronic form, provided that the editors are notified and no fee is charged for access. Archiving, redistribution, or republication of this text on other terms, in any medium, requires the notification of the journal and consent of the author.
---
[I married while in college and at twenty-one found myself in Okinawa, a military wife living 'on the economy' in a tiny concrete-block house, 9,000 miles from my Wisconsin home. Unable to speak the language, without a car, missing my family, I spent the first months there in stunned denial. I never left my little home during the day; although the house held its own dangers, the garden was more frightening, and the world outside the gate was unthinkable. I read a lot, and wrote poetry, and tried to sleep.

We were able to travel off-island a fair amount, and I wrote poetry about that too. Looking back at it now, I see a focus on (an obsession with?) enclosures, on confinement and escape. I also see that those poems rarely involved people; perhaps art and architecture provided comfortable objects for the depressive scopophilia for which I tried to find words. (But the words described temples and museums and palaces, not those who lived in them, not those who visited them. Or so I thought.)

Four months before returning stateside, my daughter arrived. Her radiant presence transformed Okinawa into a reasonable facsimile of home and transformed my senses of loss into joy. And that made it possible, at twenty-four, to go home -- really home, home to my family, to my childhood, to loving and teaching and caring for my daughter, to the future -- as something approaching a grown-up.]
---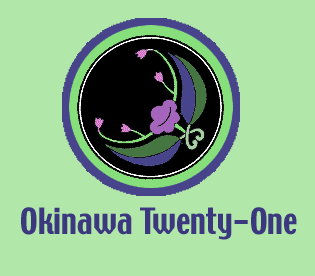 A sliver of Pacific
between banana leaves;
heat hallucinates.
"Mizu o
kudasai," I say
in pidgin Japanese.
The gardener waits
until I go away
to water yellowed grass.
I lock the door behind me
and sip a glass
of lukewarm tea.
And I am sick
for snow.

Eyes glazed, tails curled
like nooses, geckoes perch
on walls and vines.
The house is thick
with spiders lying low
until I sleep.
They bivouac at night,
arachnid mission creep,
to pounce and bite.
I would give a world
of mugo pines
for a single silver birch.
And I am sick
for snow.

When the gecko landed
on my back
I crawled in bed
for weeks and read
of places I might go.
Which airport should I pick?
Yokosuka, Osan, Kai-tak,
Outagamie -- from the air
the quilted farm, the ice-rimmed lake,
announce that I am almost there.
My parents meet me at the gate.
Now, I'm terrified
of being stranded
outside . . . inside.
I am so sick
for snow.
---
Monstrous fairyland, gilded glitter --
Surfaces crammed and crusted with gold,
Bits of porcelain, dazzling stone,
Painted clay, scraps of mirrors.
Sun-simmered, light-dissolved, walls
And roofs evaporate in dancing fans
Waving the sky--rainbow phantom forms
Weightless, within the call of bells
And gongs and prayers and human step,
The scent of incense, jasmine, sweat
And hot wind steaming skin . . .
Sensory overload, surfeit of sun:

The rakshas leave their pedestals
To spread out sparkling giant trails --
Banisters curve to lion paws --
Eaves shake serpents down the walls --
Over the casement flutters a garuda --
Fantasy heaven, hardly Hinayana.

In a dark room mounds made
Of golden bodhisattvas pyramid
Underneath a picture of the king:
King and gods pocked with leprous chips wrung
From beaten gold, pasted in place by the pious.
Motionless monk chanting Pali from a throne, the raucous
Worshippers below milling about, picnicking in the chamber
And listening. The light of the Lord Buddha shines forever.
---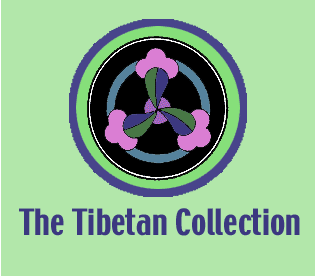 Power lines to Lhasa: Diamonds spun
to filaments thread through glass cases
weaving oceans into Himalayan sun
touching heartdrops from great spaces.

Chenresig the compassionate surveys the remnant. Flames
adamantine refuel a guardian revolt.
Drolma dances on the corpse. Tandin tames
the tiger devil. Chakdor spits a thunderbolt.

Dorje-jigme, the bull-headed, butts
his bone-encircled body against his four-armed wife.
Yab-yum spiked with weapons cuts
destruction into ribbons red with life.

Around the furious warriors' requiem
lie ritual objects. Captured power zone:
Gold-lidded skull cups hide the triple gem.
Long trumpets lock notes into the bone

of frozen curve. Vajra scepter almost meets
bronze bells enclosing primal sound -- brass
daggers mid-slash, double drums caught between beats . . .
Take, hear, touch, release. Break the glass.
---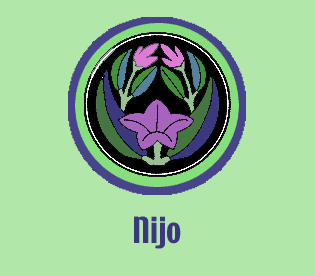 Wait

A minute
At the gate.

Chrysanthemum bolt,
Butterfly hasp, egret stone:
Soft moat stone mirrored.

Through: over, inside,
Wide lawns lap the wall line.
Pine contorts with rope weight.
Late leaves streak the air with gold dew.

Second compound: carved peacocks pose
Above blank barriers of shoji; precise
Geometry of beam and pillar challenged
By swooping gables curved to dolphins; white rice
Paper, smooth wood support red and blue cloud capitals.

Rigid harmony: plant and animal
Pinned in ceiling grid, held with hall rail.
Painted cranes peck the grain of cedar doors,
Denied flight. Maple and cypress impale
Immobile mist in frozen murals.


Bare nightingale floor:
Corridor that squeaks and sings,
Wings of sound, announcing intrusion.
Collusion of wood and wall. Fresh air --

Thick sucking rich pelt
Creeping up trees, sinking stone:
Green harvest figured.

Winter grass
Pushed by spring:

Pass.
---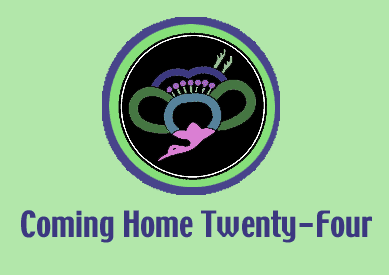 How easy to forget
the frosts of early May.
6:00 a.m., O'Hare. Today
I take my daughter home.

And yet
it is so very cold
in the commuter terminal,
freezing tile and chrome,
I borrow a mail pouch
to wrap around my tiny daughter
like a shawl.
She's eight months old.
The air is numbing.
I zip her in the bag instead,
so all that's showing is her head
bobbing back and forth.

Wide awake for thirty hours,
just as she had been
her first homecoming,
Seoul to Naha, New Year's Eve,
her will outlasts my powers
of wakefulness;
I doze on the plastic couch
while she tugs my sleeve
and kicks the bag she's in.

Ridiculous to have her in a sack:
she wears a frilly cotton dress
sweet with talcum powder.
Does the cold air
make her remember
the chilly rooms in Inchon?
Or remember less?
Will she sleep as we fly north?
Have I grown old?
Will I still be their little girl?
Will they be glad we're back?
---
---